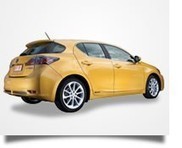 The Automobile Club of Southern California's Automotive Research Center (ARC) compiles an annual Green Car Guide including evaluations of most of the "Green" models (hybrids, electric vehicles, alternative-fueled vehicles, PZEVs, and conventional vehicles with class-leading fuel efficiency) available at the time of publication.

For the 2012 edition of the Green Car Guide, 62 vehicles were tested. Specific tests were conducted using procedures from the Society of Automotive Engineers (SAE), US Environmental Protection agency (EPA), and from the ARC itself.
For the results, motor on over to www.calif.aaa.com. Spoiler alert – not a very impressive showing for the Prius. Note to self: must check out the Lexus dealer. 😀
Share Your Thoughts!