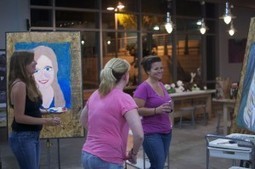 We love this place for casual art! From their website:
Get two tickets for Art After Dark for just $30 (Regularly $60) Limit: 5 per customer. Never expires. Tonight, we're not following directions or rules. We aren't being judged as good or bad. We're going to escape all of the rigid results-oriented tasks of our daily lives by making spontaneous, personal art. Be an artist for a night. No experience necessary!
Click here to buy. Tip: We let the kids paint while the moms sit on the patio and gossip. There have been wine sightings on occasion, but don't tell. 😉
See on www.mbartdepartment.com
Share Your Thoughts!