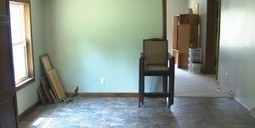 This is a cautionary tale for any neighborhood. Make sure somebody is watching your house when you're away.
Katie Barnett, a resident of MacArthur, OH, claims that a bank she doesn't belong to broke into her house while she was on vacation and either took or destroyed most of her possessions. First National Bank in Wellston had meant to foreclose and repossess a house across the street and blames its GPS for the mix-up.
I originally heard a summary of this story in the car on the radio. When I started googling to find the full story on the web, I was shocked at how many wrongful foreclosure stories are out out there. What a sad mess we still have in this country.
For the full story, jump over to thinkprogress.org.