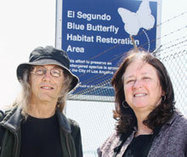 From the Argonaut:
The topic of potential conflicts of interest was the most attention-grabbing event on an agenda that was light on substantive matters at the Neighborhood Council of Westchester-Playa's July 9 meeting.

Playa del Rey environmentalist Marcia Hanscom accused two members of the board of having ethical conflicts because they work for entities connected with projects that could eventually be brought before the council.

Thomas Flintoft, a lobbyist with Kindal Gagen, a Los Angeles public affairs and lobbying firm, and Geoff Maleman, who runs a Westchester public relations firm, have been hired to represent the Annenberg Foundation and are the two members whom Hanscom cited in her remarks to the council.

The nonprofit organization hopes to build a 46,000-square foot, $50 million nature center in a location known as Area C of the Ballona Wetlands near Culver Boulevard. The interpretive center would include an auditorium, classrooms, a public lobby, exhibits on wildlife and domestic animals, facilities for an animal adoption and care program and veterinary facilities for animals.
For the full story, head over to argonautnews.com.