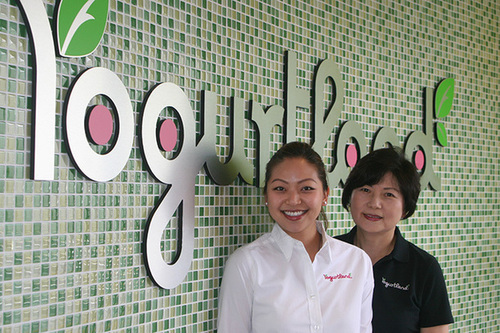 Whether you're a red velvet cupcake batter with chocolate sprinkles kind of guy or an apricot tart with fresh strawberries kind of woman, Westchester's Yogurtland has enough flavors and toppings to satisfy the most discriminating of palettes.

Since opening on January 22, Yogurtland has been popular with community members, students and people on their way to and from LAX, surpassing expectations for Sharon Lee who owns the Westchester Yogurtland location with her mother, Ann Lee.
Zoe and I can confirm that the yogurt is dee-lish! I went nuts for the Maple Cookie, but hurry! It's a March specialty.
Yogurtland is located at 8752 S. Sepulveda Boulevard in Westchester.
See full story on thehometownnewsonline.com.
UPDATE: two-fer coupons arrived in the mail on 3/11 with the local grocery ads. And, sadly, it looks like the Maple Cookie stays on the menu only through the end of this week. 😦